Back in the late 1960's and early/mid 1970's, it was almost impossible to move in the creative circles of Los Angeles without knowing - or at least regularly running into - Van Dyke Parks.
He was one of those people who everyone seemed to somehow know even if they all didn't know his music all that well.
And even though I had to have met/run into him a dozen times in just one or two year period, I never once heard him perform live. I only knew his music from the few local FM stations that played
anything of his that they could get their hands on - even if it was a pirate tape late at night.
So it's nice to read about his continuing comeback and know that someday - maybe - I just might be able to hear him perform live.
Van Dyke Parks: return of a musical maverick
He tried in vain to move the Beach Boys away from surf and bikinis. Today artists from Rufus Wainwright to the Scissor Sisters are queuing up to work with him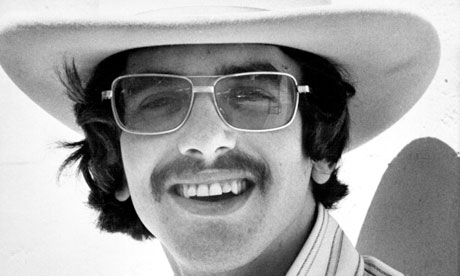 As the small, white-haired, bespectacled man in a sleeveless cardigan took his seat a few rows from the front of the stalls in London's Royal Festival Hall one night in 2004, several dozen people among the already packed house greeted him with a standing ovation. Those who did not recognise the seemingly insignificant figure were soon apprised of his identity and importance: this was Van Dyke Parks, the former wunderkind who, almost 40 years earlier, had supplied the lyrics to the work whose world premiere the audience was about to hear:
Brian Wilson's SMiLE
, the album designed for the
Beach Boys
at the height of the 60s but abandoned in despair and left to acquire the status of myth.
Reconstructed under the supervision of its authors and a small orchestra of acolytes, SMiLE turned out to be, if not quite the "teenage symphony to God" that Wilson had promised during the album's original gestation period, then a compellingly original symphonic portrait of America, studded with brilliant moments of pop fantasy. At the conclusion of the performance the lyricist stepped up to share another ovation with his old friend, relishing the belated acclaim for a work that had once been engulfed in acrimony.
As a child chorister and actor in the 1950s, Parks had sung under the batons of Toscanini and Beecham, performed Silent Night to the accompaniment of Albert Einstein's violin, and appeared in Grace Kelly's final movie. Yet his first substantial contribution to pop music was initially met with incomprehension and disdain when Mike Love, the lead singer of the Beach Boys, took angry exception to the wordy, allusive, double-punning lyrics being supplied by Parks to Wilson, the group's chief composer and resident genius.
While Love and the rest of the group had been on tour abroad in the middle of 1966, singing their songs about cars, girls, surfing and high school proms to an adoring public, Wilson – who had retired from the road – and Parks began their collaboration. The approach they took was very different from that enshrined in "Surfin' USA" or "I Get Around", and more ambitious even than the romantic tone poems of Pet Sounds, the Beach Boys' previous album. Now each individual song was a dazzling patchwork of movements featuring lyrics that resolutely avoided mention of beaches and bikinis.
Their endeavours were fuelled by a mutual enthusiasm for mind-altering drugs: speed, hash and LSD. During a conversation five years later Parks recounted how, on first arriving in California as a teenager, he had been falsely arrested on a charge of possessing marijuana. "I'd never heard of it at that time," he told me in 1971. "After that I took plenty of opportunities to find out what it was that I'd been arrested for. And I found out. I stayed in a stupor for some time." Not the sort of daze, however, that could dull the edge of a sharply inventive intellect.
"Hung velvet overtaken me / Dim chandelier awaken me / To a song dissolved in the dawn," Parks wrote for a song titled, with conscious irony, "Surf's Up". "The music hall a costly bow / The music all is lost for now / To a muted trumpeter swan." The vaulting melody seemed more appropriate to a cathedral mass than a rock gig. When Wilson sang it, alone at a piano, on a national TV show hosted by
Leonard Bernstein
, the great conductor called it a masterpiece.
Love didn't agree. On the group's return to Los Angeles, where they joined Wilson and Parks in the studio to add their voices to the new songs, profound differences of opinion emerged. Love had written the words to several of their earlier hits, including "Surfin' Safari" and "Good Vibrations"; resenting the switch to a direction he neither understood nor appreciated, he challenged Parks to "explain" a line from one of the new songs: "Over and over the crow cries uncover the cornfield."
"It was an American Gothic trip that Brian and I were on," Parks would recall 10 years later, in an interview for a Beach Boys documentary, but his reaction to the challenge suggested that he knew he was up against superior forces. "I said, 'I don't know what these lyrics are about. Throw 'em away.' So they did." Having spent months helping to construct such complex songs as "Heroes and Villains", "Cabin Essence", "Wonderful" and "Surf's Up", he walked off the project, which was soon abandoned by a dejected and increasingly reclusive Wilson.
By the time Parks took his seat in the Festival Hall to witness its re-emergence, he had long been accepted as a kind of benign enfant terrible of pop. In recent years he has composed for film and television, written books for children, and worked as an arranger with Rufus Wainwright, Saint Etienne, Scissor Sisters, Laurie Anderson, Inara George – the daughter of his late friend Lowell George, the leader of Little Feat – and Joanna Newsom, whose widely praised second album, Ys, he orchestrated.